Ol' Dirty Sheets
Hot Sauce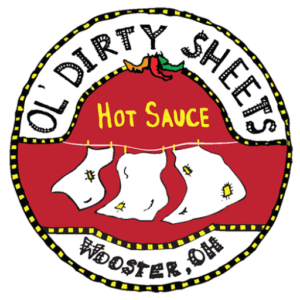 Ol' Dirty Sheets' Hot Sauce began in 2016 with a bag of chipotle chiles and a dream. We wanted to make hot sauce for hot sauce people. Clean and simple ingredients layered together to create the most flavorful
and usable sauce out there. No gimmicks, no novelty. Straight forward, small batch hot sauce.
Wanna get hot?
Cheers,
Josh and Jamie
Where to try Ol' Dirty Sheets!
Interested in carrying our products?! Send us an inquiry!
Canton Mueseum Of Art  (Artisan boutique)
Rittman Orchards & Farm Market
Community Grounds
Portia's Cafe
Wooster, Ohio
Wooster Natural Foods
Local Roots Market & Cafe
Meatheads Union of Ohio
Guerne Heights Drive-In
Flamingo Jacks
Sure house Coffee
Graham & Burns
Spoon Market
The Leaf